MEMBERSHIP
WHAT WE DO AS A SOCIETY AND FOR THE TOWN OF BETHEL
The Bethel Historical Society, Inc. cordially invites you to renew or become a new member for 2015. Please join others dedicated to the preservation of the history of Bethel
and to stimulating interest in our local, state, and national heritage.

In the past year our museum has had several new exhibits, Bob Young of the Danbury Museum and Historical Society presented an engaging program on Albert Afraid of Hawk, we presented a film, And The Swans Still Swim, a tribute to the Stony Hill Inn and the Rubino Family, we conducted our 19th annual historic walking tour for all Bethel 2nd graders, conducted our annual Colonial Kit's Camp, Tom Fatone presented his 12-year journey to photograph all 169 Connecticut towns' historical signs, hosted a CT Open House Tour, P.T. Barnum's Birthday and Crazy Hat Contest, hosted our annual Ghost Tour by Marty Bishop, and hosted our annual Children's Victorian Christmas Tea. It has been a great year.
Please return your membership dues as soon as possible.
---------------------------------------------------------------
Bethel Historical Society, Inc.
P.O. Box 1776
Bethel, CT 06801

NOTE: The Bethel Historical Society is a charitable organization under Section 501(C) (3) of the Internal Revenue Service Code. Therefore, your contribution may be tax deductible.
Check with your tax advisor for further details.
REMEMBER if you belong to a corporation or organization with a matching gift program;
please submit a request form to us for that matching gift.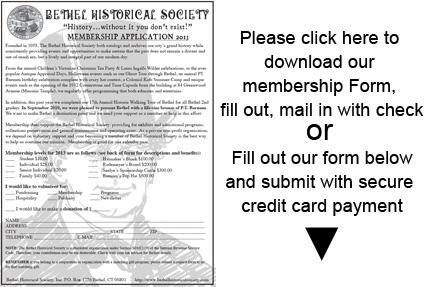 Thank you very much.